Martha Barrick
Broker/ Principal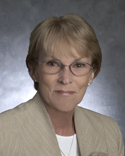 570-524-7500
Fax: 570-524-2814
[email protected]
http://www.marthabarrick.com
Martha Barrick and co-owner Lawrence Lawson founded Penn One in 1986. Now, more than 36 years later, Martha uses her expertise to direct the area's premier real estate provider: Coldwell Banker Penn One Real Estate. With over 46 years of experience to back her up, Martha's extensive knowledge and commitment to her clients has made her a leader in the Central Susquehanna Valley.
She enjoys working with every type of client, from renters to buyers to sellers as well as clients relocating. Martha specializes in family/ residential real estate, recognizing their needs and concerns and putting them at the forefront of her service. As a mother and grandmother she knows the value of each area and key attributes of importance for families looking to buy. Martha is an experienced, reliable and knowledgeable realtor, as proven by numerous professional accomplishments and community involvement.
Awards
Realtor of the Year 1988 Central Susquehanna Valley Board of Realtors
25-year service award for Redevelopment Authority of Union County.
Current Local Affiliations
Member of the Coldwell Banker President's Circle
Emeritus Evangelical Community Hospital
Secretary/Treasurer of the Union County Industrial Development Authority
Volunteers at the non-profit Campus Theatre
A member of the Greater Susquehanna Valley Chamber of Commerce
A member of the Central PA Chamber of Commerce